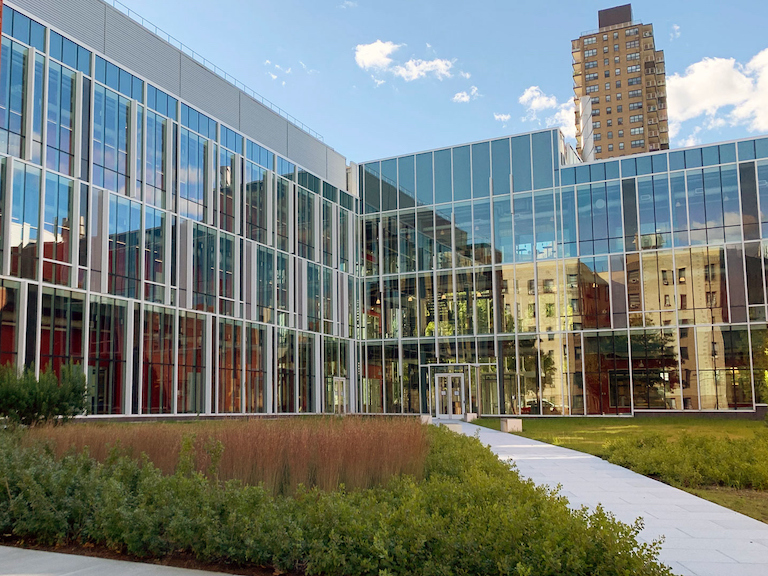 Manhattan College's Patricia and Cornelius J. Higgins '62 Engineering and Science Center, a 30,000-square-foot academic facility on its South Campus, adjacent to Leo Hall, is now open.
A formal dedication of the Higgins Engineering and Science Center will take place at 10 a.m. on Thursday, October 21. Please note that this event is invite-only. 
The Higgins Center provides the necessary resources for a 21st-century education in engineering and the sciences. A grand atrium welcomes students and faculty to the three-story structure. Fourteen ultramodern laboratories support and expand teaching and research in each of the College's engineering and science disciplines. There is also space for collaborative learning and interdisciplinary partnerships between students and faculty.
"The Higgins Engineering and Science Center is a magnificent, state-of-the-art addition to our facilities," said Brennan O'Donnell, president of Manhattan College, at the Higgins Center groundbreaking in April 2018. "This is the first step in a comprehensive program of renewal of our labs and classrooms on South Campus."
Strategically located across from the Research and Learning Center, the Higgins Center is connected to a refurbished Leo Hall. Together, the structures feature 140,000 square feet of academic space for engineering and the sciences on Manhattan College's South Campus.
Shortly after the Higgins Center opened this year, it received a Gold rating in Leadership in Energy and Environmental Design (LEED) from the United States Green Building Council.
The Higgins Center is named after Patricia G. Higgins, Ph.D., and Cornelius J. (Neil) Higgins '62, Ph.D., who provided a $5 million leadership gift for the Center.
Cornelius J. Higgins '62, Ph.D., is a founder and chairman emeritus of Applied Research Associates Inc., a national engineering and science firm headquartered in Albuquerque, New Mexico. He held the position of principal and chief executive officer from 1979 until his retirement in 2010.
After graduating from Manhattan College, Higgins served as a civil engineering officer in the U.S. Air Force in Albuquerque, Taiwan, and Vietnam. Upon completing his service in the Air Force, he joined the defense analysis industry as assistant division manager for Mechanics Research Inc., and later as vice president of Civil/Nuclear Systems Corp. In 1975, Higgins joined the University of New Mexico as chief of the geotechnical analysis division of the civil engineering research facility. He was elected to the Manhattan College Board of Trustees in October 2003 and is a now a trustee emeritus.
Patricia G. Higgins, Ph.D., served on the faculty of the College of Nursing of the University of New Mexico from 1980 to her retirement in 2000, rising from visiting instructor to full professor. Her specialty was maternal-child nursing. Prior to her academic career, Higgins taught health occupations at Rio Grande High School in Albuquerque, New Mexico, and nursing refresher courses at Albuquerque Technical-Vocational Institute. In her earlier career, and while teaching, she raised three children.
A registered nurse and a member of the Association of Women's Health, Obstetric and Neonatal Nursing, Higgins received a diploma in nursing from the Bellevue and Mills School of Nursing in 1963. After raising her family, she entered the University of New Mexico to receive a B.S. in health education in 1975 and a B.S. in nursing in 1978. She then received an M.S. in nursing from the University of Arizona and returned to the University of New Mexico for a Ph.D. in health education in 1984. 
The couple resides in Bonita Springs, Florida.
https://manhattan.edu/news/archive/2021/10/manhattan-college-to-formally-dedicate-higgins-center.php